Space-saving furniture and visual tricks can open up and add function to your compact home.
While there's no escaping the reality that a small space tends to be, well, small, it is possible to make your small space feel as big as it possibly can. Here are a few tips to visually elongate your home and make it brighter and more open, along with furniture suggestions that up your storage capacity so your petite space doesn't feel claustrophobic.
Photo by Fredric Boukari Photography – Browse Scandinavian kitchen photos
Space-Saving Furniture
Furniture that has multiple functions helps a home feel less cluttered while not forgoing the ability to accommodate guests.
Double drop-leaf tables. Tables like the one shown here can provide eating surface for one or two people and expand to accommodate small groups.
When not in use, certain models can completely fold away to be tucked behind a door or leaned against a wall. Pair one with folding chairs and you'll save even more space.
Find a version with wheels or add your own to easily pull the table around to create a console near the entryway or a makeshift bar cart.
If you're looking for something similar for your own tiny space, search for terms such as double drop-leaf, narrow dinner table or expandable table to find a piece that will be multifunctional and work in a petite space. A few big-box stores have new versions of this style, but if you're looking for vintage, the midcentury era was especially big on multifunctional pieces for compact living.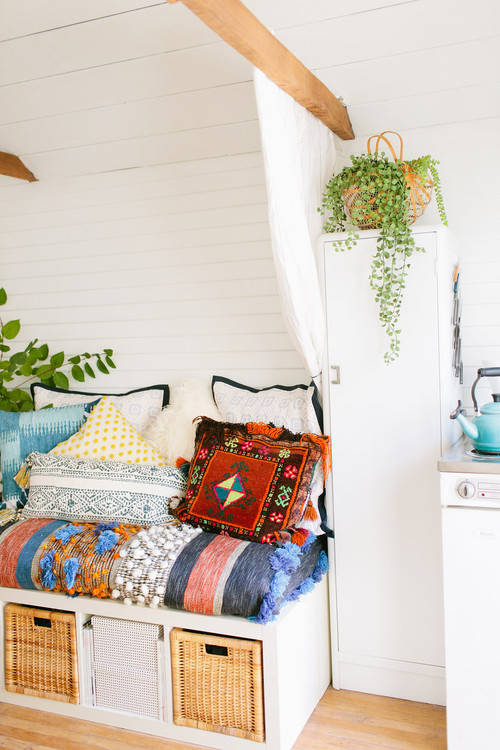 By A & B Creative Berkeley – See more Home Design Photos
Sofa with storage. A sofa that offers storage is a double whammy in a small space. I find that splurging on custom built-ins, if you can, provides the best results, and homeowners never regret the expense of smart storage. But if you're looking for a DIY option, seek out a sturdy shelf that has cubbies and a strong frame. Ideally you're choosing a shelf that's made to either stand upright or be on its side, like Ikea's Expedit, which I used in my own home shown here.
I placed two Expedit shelves on their sides — one against the wall and one in front of that — and topped them with a child-size futon, a blanket and some pillows. The cubbies below provide deep storage all the way to the back for rarely used items and handy baskets up front for things you need in a pinch.
Photo by Resource Furniture – Look for living room design inspiration
Murphy bed. A Murphy or fold-up bed is one of the best ways to have your cake and eat it too in a small space. If you're unwilling to part with your king-size bed in a 200-square-foot space, for example, this will allow you that luxury.
An additional benefit of a Murphy bed is that you don't have to lose light or ceiling height as you do with a loft bed. You can buy hardware and make your own Murphy bed, purchase a ready-made one or even have one custom made. Adding trim to the exterior makes it feel more finished and intentional.
Read more on adding a Murphy bed
Photo by Nanette Wong – Search midcentury home office pictures
See-through table. A "ghost" table is another great multipurpose item. It's a desk, console table, bedside table or dinner table for one and will visually disappear into a room.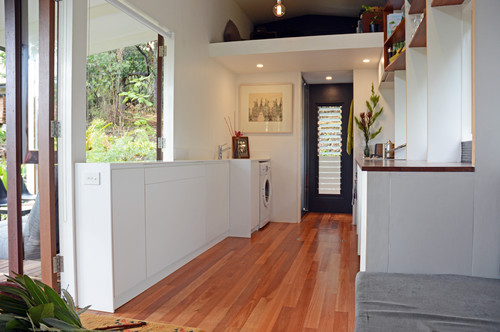 By Tamara Armstrong – See more Home Design Photos
Visual Tricks
Horizontal lines. Choose repeating horizontal lines in the flooring, siding and even ceiling boards to make a room feel longer. Forgoing a rug is another helpful way to make your space feel bigger. Not having any visual interruption on the floorboards creates an optical illusion that your space is longer than it is.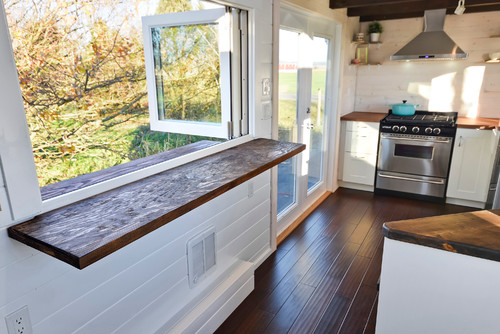 Photo by MINT Tiny House Company – Discover farmhouse home design design inspiration
Let the light in. Choosing glass French doors allows more light to enter your space, making it feel more open. They also let as much light in as possible without having to cut into the walls to add extra windows, particularly helpful if you're modifying an existing small space. There are plenty of decent low-end French doors out there, or try finding some used ones to keep costs down.
Photo by Chris Snook – More Scandinavian living room ideas
Light paint. A lighter wall color allows you to keep your space open and bright while then accessorizing with pops of color and enriching the room with various textures. One of my favorite white wall colors is White Diamond by Benjamin Moore. It bounces light and can ensure that your little abode won't feel cavelike.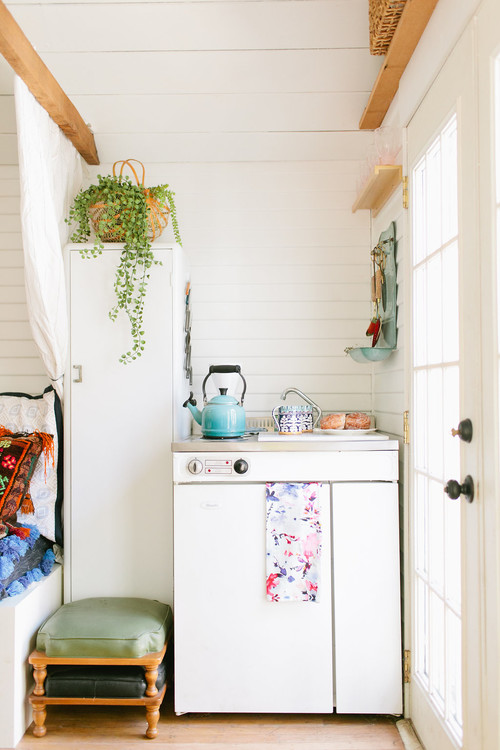 By A & B Creative Berkeley – See more Home Design Photos
Paint furniture the same color as the walls. Painting furniture and appliances the same color as the walls (or choosing appliance finishes in the same color) also helps a space feel bigger. Bring in accent color with plants, textiles and accessories.
Placing a cutting board (or sample marble tile as I did here) over a sink creates an extra cutting and prep surface when you're not using the sink — another great space-saving trick.
Photo by Myrica Bergqvist Interior Stylist/Decorator – Search Scandinavian kitchen pictures
Overlooked Spaces
Go up. Continue your storage up your walls to create more room without taking up precious square footage. Choosing attractive versions of staples like containers or a tea kettle allow you to skip additional storage by keeping such items in the open.
Photo by Jetton Construction, Inc. – Search Victorian patio pictures
Go out. Continue your interior space outside to allow your petite space to feel more expansive and less limiting. Add additional seating, accessories, art, plants and anything else to entice you and your guests out. Having the space, even if it's a small balcony for one person, to have tea in the mornings or wine in the evenings is something you won't ever take for granted.
More
Houzz TV: You Won't Believe Everything This Tiny Loft Can Do
16 Smart Ideas for Small Homes From People Who've Been There
Related Links
Here's How to Fit a Bedside Shelf Into Even the Tiniest Room
Living in a Studio? Try a Stylish, Yet Comfortable Sofa Bed
Expert Advice on How to Paint Kitchen Cabinets